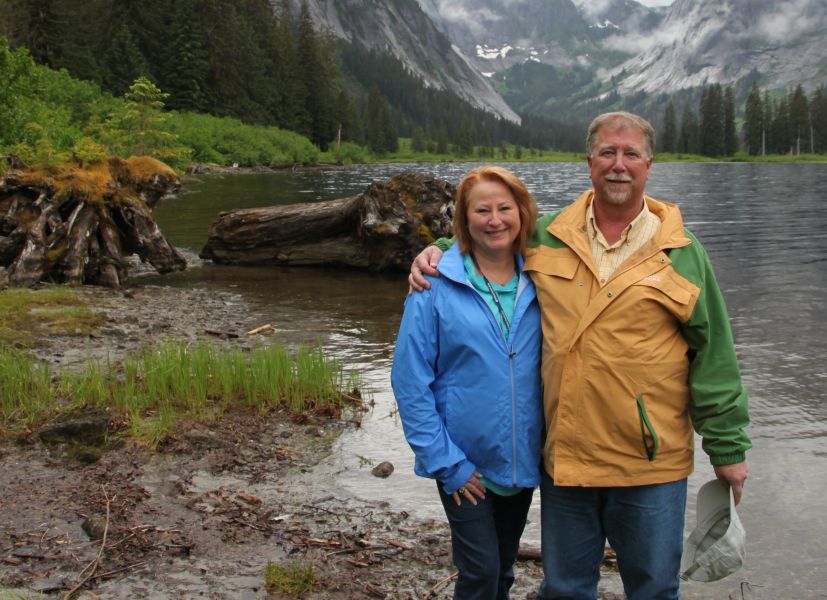 Hello. I'm Marshall and that's me with my lovely wife Susan on a dream vacation to Alaska. We're standing on the banks of Nooya Lake in the Misty Fjords National Monument northeast of Ketchikan, courtesy of Michelle at Island Wings. We're the Eschetes. I know. You've never seen a name like that and wouldn't even think of pronouncing it. Well it's Louisiana French. Acadian. That's Cajun to most people.
Most of the Eschetes live near Houma, Louisiana, but my father was in the military and we moved a lot. I now live in Alabama at the extreme southern end of the state. We live on Mon Louis Island with Mobile Bay to the east, the Gulf of Mexico to the south, and Fowl River to the west and north. I know you've heard the famous Admiral David Farragut quote, "Damn the torpedoes, full speed ahead"! According to Naval Historians that's probably not correct and it's much more likely he said "Damn the torpedoes!. Four bells, Captain Drayton". Well whatever he said, he said it in the Civil War Battle of Mobile Bay on August 5, 1864 at a spot not far from our bulkhead that you can see in the current view below.

Here's the weather at that bulkhead
On to other things.



I'm no chef but I like to cook. Over the years I have collected quite a few recipes. I've assembled some of them here. Mostly it is for us to find our favorite recipes, but you are more than welcome to see if anything strikes your fancy. Check out the links to the below.
---

If you found this page while surfing the net, great. It was built mainly for our family and friends but that doesn't mean we don't want to hear from you. Use the links above to send us an email. Let us know who you are, where you're from, and any suggestions you might have to make this website better.

Lastly, this Site is © Copyright 2001-2017, Marshall Eschete,

This site is gluten free but not the food. It was made with organically grown free-range or 100% post-consumer dolphin safe recycled pixels and no pixels were harmed during the making of this web page.
No Pop-ups from this site ever!

Last updated September, 2017