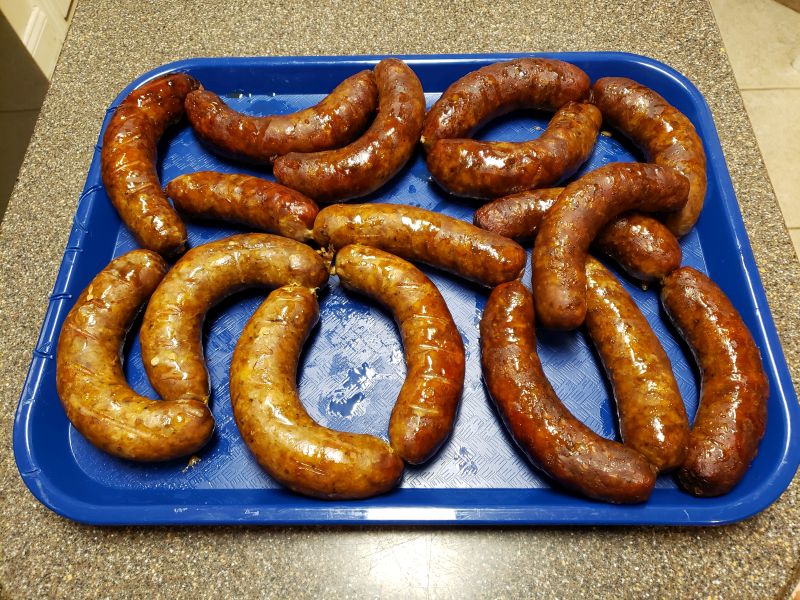 Andouille Sausage
There are two reasons you should make your own andouille sausage. One, you can't get andouille at your local supermarket and two, you can get andouille at your local supermarket. Reason number one is easy. You can't get andouille so make it yourself. Reason number two is easy as well. I can get real Louisiana andouille at supermarkets in my area but nothing I can buy is as good as what I can make. Unless you live down the road from a good Cajun meat shop where you can get fresh tasso, andouille, and boudin it's worth making each of them yourself.
| | |
| --- | --- |
| 6 lbs | pork butt |
| 4 tbl | minced garlic (don't go to all the trouble of mincing the garlic yourself, buy it in the produce section already peeled and minced) |
| 1 tbl | granulated garlic |
| 2 tbl | salt |
| 1 tbl | ground coriander (grind it yourself, it makes a big difference) |
| 1 tbl | paprika |
| 1 tsp | freshly ground black pepper |
| 1 tsp | cayenne pepper |
| 1 tsp | chili powder |
| ⅛ tsp | allspice |
| ½ tsp | dried thyme |
| ¼ tsp | ground bay leaf (grind it when you grind the coriander) |
| ¼ tsp | dried sage |
| 3 tbl | liquid smoke |
| ¾ cup | cold red wine |
| 32-35 mm | natural hog casings |
Trim about half of the fat cap from the outside of meat but leave the rest. Using a meat grinder, grind the meat with the coarsest disk you have. After grinding, add the sausage seasonings to the meat and blend by hand. Be sure to mix thoroughly to ensure the ingredients are spread evenly throughout the meat. Stuff the casings using a sausage stuffer. Do not use the blade in meat-grinder when stuffing as it grinds the meat too fine. Put the andouille in the fridge overnight uncovered to dry the sausage and "set" the casings. Smoke the andouille for 6 hours and not a minute less at 175°F using pecan and, if available, sugar cane.