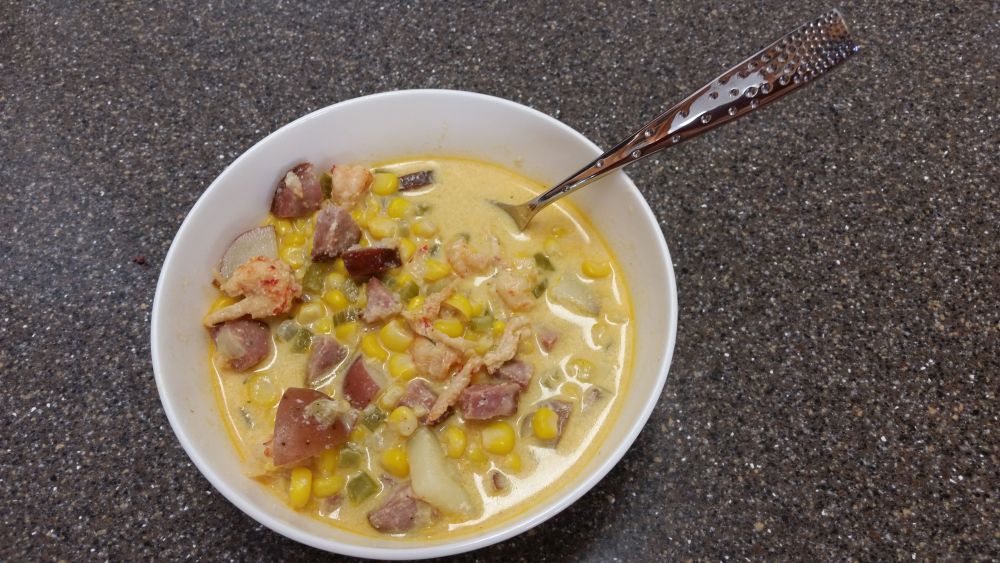 Crawfish Boil Soup


Where we live 1 lb bags of frozen peeled crawfish tail meat go on sale during spring crawfish season. So what can you do with this windfall? Make this soup! I doubt you or any of your friends have ever had crawfish boil soup. It's unusual, filling, and really delicious. You can also substitute peeled and cooked shrimp for the crawfish if you like shrimp better.

Before you make this soup or anything with crawfish tails know that there are two types of crawfish tails. Domestic tails from Louisiana and imported tails usually from China. Chinese crawfish tails are terrible, horrible, a scourge on humanity. They are a low quality product that tastes so fishy they are barely edible and will ruin any dish you put them in. Really, it's hard to describe how truly awful they are. If Chinese tails are all that are available don't buy them, leave them in the supermarket, and consider your self lucky for never having brought this inedible trash into your home.

| | |
| --- | --- |
| 1 tbl | olive oil |
| ¾ lb | andouille sausage |
| 5 cloves | garlic, minced |
| 1 | onion, diced |
| 3 stalks | celery, diced |
| ¼ cup | white wine |
| 3 cups | frozen corn |
| 1½ cups | red potatoes cut into ¾" pieces |
| 1 qt | whole milk |
| 1 tsp | salt |
| 1 tsp | ground thyme |
| 2 tsp | Creole seasoning |
| 2 lbs | crawfish tails |
| 4 | green onions, thinly sliced, just the green parts |
Heat the oil in a large pot over medium heat. Add the andouille sausage. Cook for about 5 minutes stirring occasionally as the sausage browns and the fat renders. Add the garlic, onion, and celery, and saute' until the celery softens. Deglaze the pan with the white wine. Add the corn, potatoes, milk, salt, thyme, and Creole seasoning. Bring this to a simmer and simmer for 8 to 10 minutes, Don't boil it, as the milk burns easily and separates. Add the crawfish tails (or shrimp), bring the soup back to a simmer and simmer for 2 more minutes, Taste the soup and adjust the seasoning with salt and pepper. Ladle it into a bowl and top with the green onions. Serve. If it is not spicy enough, add more Creole seasoning or hot sauce.