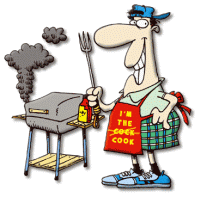 Bourbon & Beer BBQ Sauce & Marinade for Ribs

| | |
| --- | --- |
| 1 cup | bourbon |
| 1 cup | brown sugar |
| 2 oz | Worcestershire sauce |
| 2 oz | soy sauce |
| 10 cloves | garlic, finely minced |
| 2 tsp | black pepper |
| 6 oz | tomato paste |
| ½ cup | cider vinegar |
Make a marinade. Combine everything but the tomato paste and vinegar in a sauce pan and bring to a simmer. Remove from the heat and let cool. Pour half of the marinade into a container and refrigerate. Place the ribs in a freezer bag and pour the remaining marinade over. Seal the bag and refrigerate overnight.

Take the ribs out, sprinkle on your favorite rub, and let the ribs stand for an hour with the rub. Cook the ribs however you like.

While the ribs are cooking make the BBQ sauce. Take the reserved marinade out of the fridge and add it and the vinegar and tomato paste to a sauce pan. Bring the sauce to a boil, reduce the heat to a simmer, and cook for approximately 30 minutes or until the sauce reaches your desired consistency.