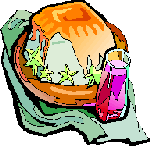 New Orleans Bread Pudding with Bourbon Praline Sauce


One of the most popular desserts at the New Orleans Jazz & Heritage Festival is Chef Ferdinand Johnson's Bread Pudding. People stand in line in the sun for a half hour or more to get a warm desert on a blistering hot New Orleans day. You can get good food everywhere in N.O. with out the hassle. You know this stuff must be good.


| | |
| --- | --- |
| 2 sticks | butter |
| 1 loaf | french bread, thinly sliced and toasted |
| 3 | eggs |
| 2 cups | milk |
| 1 cup plus 3 tbl | sugar |
| ¼ tsp | salt |
| 2 tbl | vanilla extract (good stuff, not that imitation crap) |
| ¼ cup | raisins |
| ¾ cup | chopped pecans |
| ¾ tsp | ground cinnamon |
| ½ tsp | grated nutmeg |
Bourbon Praline Sauce

1 stick

butter

½ cup (packed)

brown sugar

½ cup
heavy cream

½ cup
bourbon

Preheat the oven to 350°. Butter a 9-by-13-inch glass baking dish with the softened butter. Set aside.
Tear the toast in bite-size pieces and place in a large bowl. In another bowl, whisk the eggs with the milk, 1 ½ cups of sugar and the salt. Beat in the vanilla. Pour the mixture over the bread and set aside until it is completely absorbed.
Meanwhile, in a medium bowl, toss the raisins with the pecans. In a small bowl, mix the cinnamon, nutmeg and the remaining 3 tablespoons sugar.
Fold the raisins and pecans into the moistened bread and transfer to the prepared baking dish; pat down evenly. Slice 1 stick of the butter into squares about 1/8" thick and spread evenly over the bread mixture. Sprinkle the spiced sugar over everything and cover with foil.
Set the baking dish in a larger pan (it might bubble over) and bake at 350° for 50 minutes to 1 hour, or until the pudding feels firm and a knife inserted in the center comes out clean. Remove the foil and let sit for 10 minutes. Serve in squares, with the warm Bourbon Praline Sauce spooned on top.
Makes approximately 16 servings.