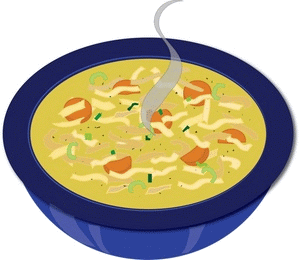 Butternut Squash, Smoked Sausage, Corn, & Wild Rice Soup



This soup is thick, hearty, and delicious. It's is a variation of a recipe from Emeril Lagasse. We substitute fat free half & half for the normal stuff to reduce the fat and calories and add more rice and corn to make the soup heartier. If you have a smoker and can smoke some store bought sausage before adding it to the soup it makes a big difference and the soup is much better.


| | |
| --- | --- |
| 1 lb | smoked kielbasa sausage, sliced about 1/8" thick |
| 1 | 2 lb butternut squash, cut in half and seeded |
| 1 tbl | olive oil |
| 12 cups | chicken stock |
| 2½ cups | onion, diced |
| 3 cups | frozen corn kernels |
| 2 cups | wild rice |
| 1½ cups | fat free half & half |
| | salt |
| | pepper |

Heat

your oven to 400°. Rub the cut side of the squash with some olive oil, season with salt and pepper, place cut side up on a baking pan, and bake for 1 hour. Remove the squash from the oven, let it cool, and scoop out all of the squash pulp. In a food processor, blend the squash with two cups of chicken stock until it is smooth then set it aside. In a large pot with a cover, add 8 cups of the chicken stock and a cup of the onions, bring to a boil then lower to a simmer. Stir in the rice and cook until the rice is tender and most of the stock is absorbed (usually about an hour). Move the rice and stock mixture to a large bowl, wipe the pot out, turn the heat to medium, and add the remaining 1 tbl of olive oil. Add the sausage and brown it for about three minutes. Add the corn and remaining onion, season with salt and pepper, and saute for 3 to 5 minutes. Add the remaining stock, rice, and squash puree and bring to a simmer. Skim off any fat the rises to the surface, remove from the heat, and add the half & half.

Serve.