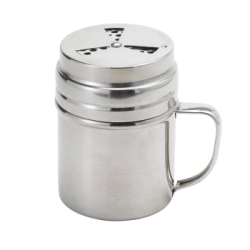 Marshall's Amazing Butt Rub


This stuff is not just for butts, it's one of the most popular seasonings in our home. This makes a big batch but it keeps for 6 months or more in a sealed container and you can use it as an all purpose seasoning on almost anything.

Measure by volume. Mix everything together. Shake on any piece of meat before grilling.


| | |
| --- | --- |
| ¾ cup | turbinado sugar (or 6 tbl brown sugar and 6 tbl regular sugar) |
| ¾ cup | white sugar |
| 2 tbl | salt |
| ½ cup | paprika |
| 2½ tbl | dry mustard |
| 2½ tbl | onion powder |
| 2½ tbl | granulated garlic |
| 2 tbl | crushed, dried basil |
| 1½ tbl | ground coriander |
| 1 tbl | thyme |
| 1 tbl | black pepper |
| 1 tbl | white pepper |
| 2 tsp | cumin |