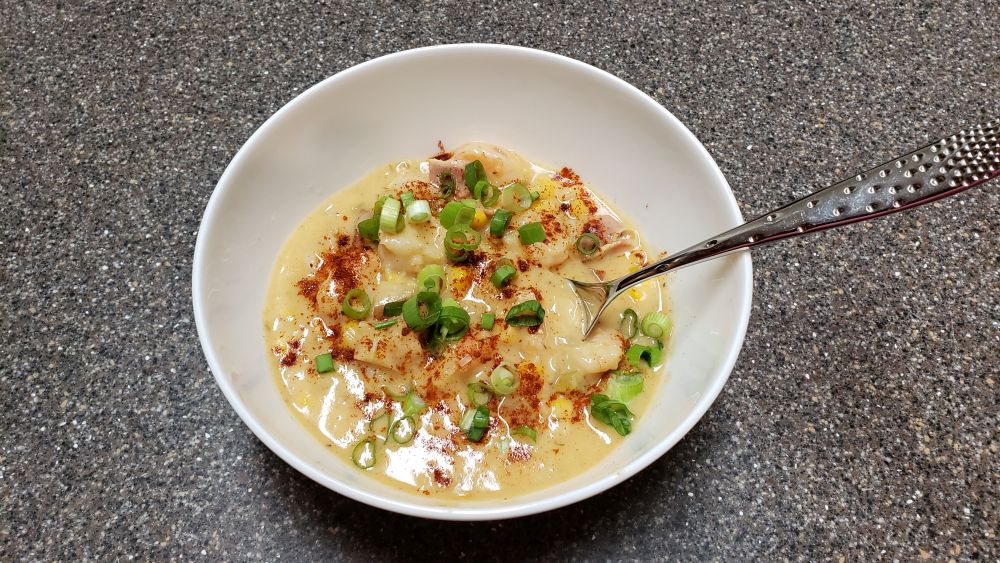 Shrimp, Corn, & Potato Chowder
This is thick, hearty, comfort seafood and it's over the top delicious.
| | |
| --- | --- |
| Ľ cup | garlic purče (see below) |
| 1 tbl | butter |
| 4 slices | bacon, cut in 1" pieces |
| 1˝ cups | onion, diced |
| 1 cup | celery, diced |
| ˝ cup | leeks, diced, just the white parts |
| ˝ cup | green onions, sliced, separate the the white parts from the green parts |
| ˝ cup | AP flour |
| 4 cups | chicken stock |
| 2˝ cups | frozen corn |
| 2 large | red potatoes, skin on, washed and diced |
| 1 tsp | dried thyme |
| 1 | bay leaf |
| 1 tbl | Old Bay Seasoning |
| 1 tsp | salt |
| 1 tsp | black pepper, fresh ground |
| 1˝ tsp | smoked paprika, plus a bit more for garnish |
| 1 cup | heavy cream |
| 2 lbs | shrimp, peeled and deveined |

First make the garlic purče. Heat the oven to 350°. Now cut off the top of the garlic heads but leave the root end intact. Place the garlic heads in aluminum foil. Brush or pour the olive oil over the exposed garlic heads and season with salt and pepper. Seal the aluminum foil. Bake for 45 minutes. Remove the garlic from the oven and let it cool. When it is cool enough to handle, squeeze the bottom of the heads and the garlic will squirt out of the cut tops. Squeeze all of the garlic on to a cutting board and use the side of a chef's knife to smash the cloves into a puree.
Now make the chowder. Over medium heat in a large pot that has a cover, (we use a 5 quart enameled cast iron pot) add the butter and bacon. Cook until the bacon is cooked but not crisp, then add the onion, celery, leaks, and white parts of the green onions. Cook until the onions are soft and translucent. Add the flour and cook, stirring constantly, for 4 minutes. Add the stock, 1 cup at a time, stirring after each added cup. Simmer for 5 minutes, thinning with water as needed. Thin the chowder until it is a bit thicker than you ultimately want as at the end you will be adding the cream. Add the corn, potatoes, thyme, bay leaf, Old Bay, paprika, and garlic puree. Bring the chowder back to a simmer and cook, covered, for 20 minutes, stirring every 5 minutes. Add the salt and pepper, and cream. Stir well and adjust the consistency to what you want then simmer for 5 minutes. Add the shrimp and cook for 5 more minutes. Garnish with the tops of the green onions and paprika. Serve.