Index:
Easy No Bake, No Egg Key Lime Pie
Key Lime Cheesecake
Homemade Vanilla Ice Cream
New Orleans Bread Pudding With Bourbon Praline Sauce
Brennan's Bananas Foster
---
Easy No Bake, No Egg Key Lime Pie
This is possibly the easiest recipe for Key Lime Pie I have ever seen.
| | |
| --- | --- |
| 6 oz | lime juice |
| 1 can | sweetened condensed milk |
| ½ cup | sugar |
| 6 oz | whipping cream |
| 1 | graham cracker pie shell |
Mix the lime juice, condensed milk, and sugar together until the sugar dissolves. Whip the cream until stiff. Mix the lime juice mixture into the cream. Pour into the pie crust. Refrigerate for at least two hours.
---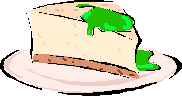 Key Lime Cheesecake
Crust:
1 cup
graham cracker crumbs
3 Tbl
sugar
3 Tbl
butter, melted
Filling:
3 packages
cream cheese (8 oz packages)
1 cup
sugar
3 Tbl
flour
3 Tbl
key lime juice
½ tsp
vanilla
3
eggs
Topping:
¾ cup
sugar
2 Tbl
cornstarch
½ cup
water
¼ cup
key lime juice
1
egg yolk
This stuff is unbelievable! If you can't get key lime juice, regular lime juice works just fine. The topping will thicken enough to stay on top of the cheesecake. Heat oven to 350o. Mix the crumbs, sugar, and butter and press into bottom of a 9-inch spring form pan. Bake 10 minutes.
Beat cream cheese, sugar, flour, juice, and vanilla smooth. Add the 3 eggs and mix well. Pour over crust.
Bake 40 minutes. Use a water bath if you know how. If you don't, it's gonna crack. Don't cry about it. Turn off oven and let cake cool as the oven cools down. Loosen cake from rim of pan. Cool completely before removing rim.
Mix the sugar and cornstarch in a saucepan. Gradually stir in the water and juice. Bring to a boil over medium heat, stirring constantly. Boil about 1 minute until clear and thickened, stirring constantly. Beat the egg yolk & add. Cook 3 minutes, stirring constantly. Cool slightly.
Spoon topping over cheesecake and refrigerate at least 2 hours.
Garnish with paper-thin slices of lime if you want it to look fancy.
---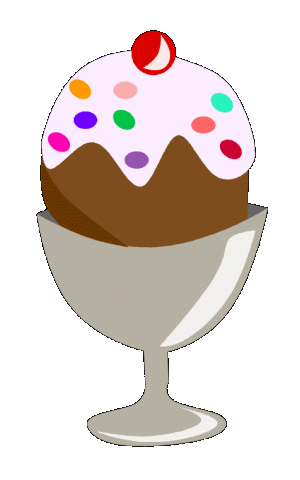 Homemade Vanilla Ice Cream
| | |
| --- | --- |
| 2 quarts | half & half |
| 1 cup | whipping cream |
| 1 ½ cups | sugar |
| 2 Tbl | good quality vanilla extract (not that imitation crap) |
| 1 tsp | salt |
Mix everything together in the ice cream maker.
---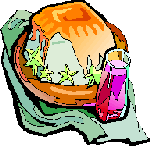 New Orleans Bread Pudding With Bourbon Praline Sauce
One of the finest desserts at the New Orleans Jazz & Heritage Festival is Chef Ferdinand Johnson's Bread Pudding. People stand in line in the sun for a half hour or more to get a warm desert on a blistering hot New Orleans day. You can get good food everywhere in N. O. with out the hassle. You know this stuff must be good.
| | |
| --- | --- |
| 2 sticks | butter |
| 1 loaf | French bread, thinly sliced and toasted |
| 3 | eggs |
| 2 cups | milk |
| 1 cup plus 3 Tbl | sugar |
| ¼ tsp | salt |
| 2 Tbl | vanilla extract (good stuff, not that imitation shit) |
| ¼ cup | raisins |
| 3/4 cup | chopped pecans |
| 3/4 tsp | cinnamon |
| ½ tsp | grated nutmeg |
| Praline sauce | (recipe follows) |
Preheat the oven to 350o. Butter a 9-by-13-inch glass baking dish with the softened butter. Set aside.
Tear the toast in bite-size pieces and place in a large bowl. In another bowl, whisk the eggs with the milk, 1 ½ cups of sugar and the salt. Beat in the vanilla. Pour the mixture over the bread and set aside until it is completely absorbed.
Meanwhile, in a medium bowl, toss the raisins with the pecans. In a small bowl, mix the cinnamon, nutmeg and the remaining 3 tablespoons sugar.
Fold the raisins and pecans into the moistened bread and transfer to the prepared baking dish; pat down evenly. Slice 1 stick of the butter into squares about 1/8" thick and spread evenly over the bread mixture. Sprinkle the spiced sugar over everything and cover with foil.
Set the baking dish in a larger pan (it might bubble over) and bake at 350o for 50 minutes to 1 hour, or until the pudding feels firm and a knife inserted in the center comes out clean. Remove the foil and let sit for 10 minutes. Serve in squares, with the warm Bourbon Praline Sauce spooned on top.
Makes approximately 16 servings.
Bourbon Praline Sauce (1 ¼ cups):
1 stick
butter
½ cup (packed)
brown sugar
½ cup
heavy cream
¼ cup
bourbon
Combine all of the ingredients in a saucepan and bring to a boil over high heat. Reduce the heat and simmer for 5 minutes.
---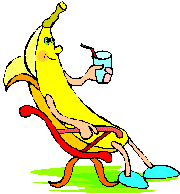 Brennan's Bananas Foster
There probably isn't a more famous desert served in New Orleans. I could go through all the trouble to tell you how to make it but Its probably better for you to just visit Brennan's website and follow their directions. Click on the Brennan's® link and you will go directly to the recipe.