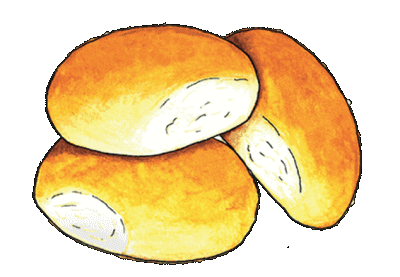 Potato Dinner Rolls

Hot fresh dinner rolls are just amazing and these are so easy.

| | |
| --- | --- |
| 4¼ cups | all purpose flour |
| 2 | eggs |
| ¼ cup plus 1 tbl | sugar |
| 2 tsp | salt |
| 6 tbl | room temp butter cut into 6 pieces |
| 1 cup | mashed potatoes |
| 1 tbl or 1 package | instant or active dry yeast |
| ¾ cup | warm water |
Add all the ingredients to a mixing bowl. Turn the mixer on and mix with a dough hook until everything comes together. Mix for 1 or 2 more minutes. Put the dough in a greased bowl, spray it Pam®, with cover it with plastic wrap, and put it in a warm place to rise until it has doubled in size. When it has risen, take the dough out, put it on a lightly floured surface, and cut it into 4 even size pieces. Cut each of these pieces into 4 more even size pieces. Grease a 13"X9" baking dish. Take each piece of the dough and roll it into a ball. There is always a roll that isn't quite good enough. Toss this one and put the other 15 in the baking dish in 3 rows of 5. Spray some Pam® on top of the rolls and on a piece of plastic wrap and cover the rolls with the plastic wrap. Let the rolls rise until they have doubled in size. This usually takes 1 to 1½ hours. Preheat the oven to 350° and bake the rolls for 25 minutes. When the rolls are done you can brush the tops with melted butter or just serve them as they came out of the oven. Serve with room temperature butter as the rolls are very soft and spreading cold butter will squash them.
Home