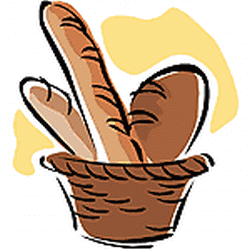 French Bread

| | |
| --- | --- |
| 2 tsp | yeast (or 1 package) |
| 1 tbl | sugar |
| 1 tsp | salt |
| 1 cup | warm water (110° to 115° and not from the faucet, it has chlorine in it that kills yeast) |
| 2½ cups | bread flour (I use King Arthur) |
| 2 tbl | melted butter |
For this recipe you will need a heavy duty mixer with a dough hook. I have a KitchenAid and that's what I used to write this recipe.

Pour the water into your mixer bowl and add the sugar and salt. Stir until everything dissolves. Stir in the yeast and let everything sit for 5 minutes. Add the flour to the bowl, put your dough hook on the mixer, and turn the mixer to speed 2. Let the mixer do its stuff and make a dough ball. STOP MIXING as soon as the dough forms.


Put the dough in a greased bowl and cover with plastic wrap. Let the dough rise for 1 hour or until doubled. Take the dough out and roll it into a loaf shape. Put this in a French bread pan and brush on the melted butter. Wipe a sharp knife with oil or spray with non-stick cooking spray and cut diagonal slits in the dough about ¼" deep. Cover with plastic wrap, and let rise 30 minutes until the dough rises enough to form a loaf.


While the dough rises put a baking tray on the bottom shelf of your oven and pour a cup or so of water in it. Turn the oven to 425°. After the bread has risen, bake it for 20-25 minutes or until browned. Make sure the baking pan has water in it the entire time the bread bakes. Cool on a baking rack.