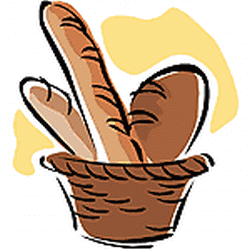 French Bread

| | |
| --- | --- |
| 1 tsp | yeast |
| 1 cup + 3 tbl | warm water (115°) |
| 2 tbl | sugar |
| 3½ cups | bread flour (I use King Arthur) |
| 1 tbl | shortening |
| 2 tsp | salt |
| 1 tbl | melted butter |
New Orleans French bread is different than the French bread that you get any where else. It's light on the inside and crispy on the outside and delicious. When you bite into it, the crust crumbles and makes a mess on your plate. I have never seen French bread like it anywhere else. This recipe is my attempt to make New Orleans French bread at home as easily as possible. I've probably cooked french bread at least 50 different ways to get this recipe to this point. It's not perfect but I'm getting pretty damn close. There's a lot of twelves in this recipe, but it's amazingly easy to make, the dough only has to rise one time, and it doesn't have to be kneaded by hand. For this recipe you will need a heavy duty mixer with a dough hook. I have a KitchenAid and that's what I used to write this recipe. Lastly, proportions are very important in this recipe so measure precisely. Don't use a 2 or 4 cup measuring cup to measure the water. For the water use 1 cup and ¼ cup measuring cups filled to the brim. For the flour, use 1 cup and ½ cup measuring cups, fill them to the top and use a knife to level the flour even with the top.

Put the sugar and water in the mixer bowl and stir until the sugar dissolves. Sprinkle the yeast on top and let this sit for about 10 minutes or until it foams. Add the salt, shortening, and all the flour to the bowl in one big pile. Put the dough hook on, set the mixer to speed 2, set a timer for 12 minutes and walk away. Don't mess with anything no matter how much you want to. During this time the mixer will make a dough ball and knead it.

Take the dough ball from the mixer, divide it into two equal pieces, and place it on a floured surface. Using your hands, roll the dough into two dough rolls approximately 15" long. Place the dough rolls onto French bread pans. Paint the top of the dough rolls with melted butter, cover the dough with plastic wrap, and let them rise in a warm place for an hour or until each dough roll has risen into the size of a French bread roll.
Once the dough has risen, put a baking pan on the bottom rack in your oven and preheat it and your oven to 350°. Drop 3 ice cubes onto the baking pan, put the bread on the middle rack, and set a timer for 12 minutes. When the timer goes off put 3 more ice cubes in the baking pan and set the timer for 12 more minutes. Pull the loaves from the oven and let them cool for 10 minutes.