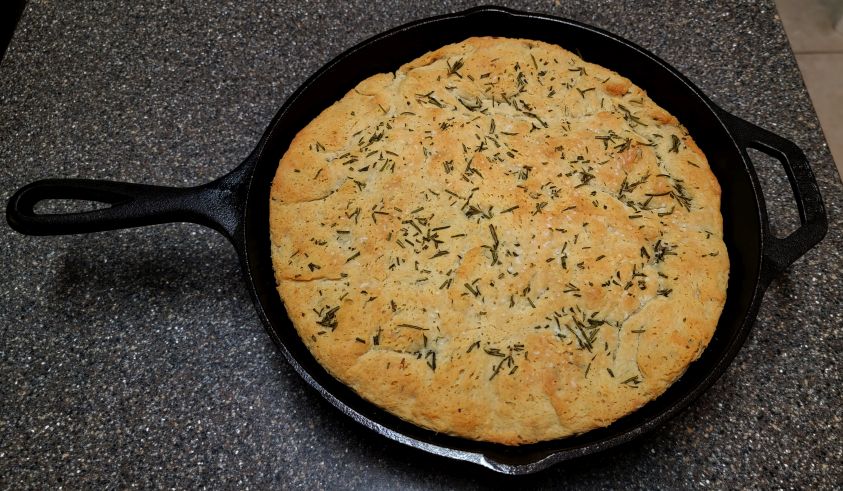 Garlic Rosemary Skillet Bread

If you want a special bread that is very good and very easy to make, this is it.


| | |
| --- | --- |
| 1 cup | warm water |
| 1 tbl | sugar |
| 1 tbl (or 1 package) | yeast |
| ¾ tsp | salt |
| ¼ cup | olive oil |
| 2½ cups | AP or bread flour |
| 1 tbl | granulated garlic |
| 1 tbl + 1 tsp | chopped fresh rosemary |
| 1 tbl | olive oil for bottom of skillet |
| 1 tbl | olive oil for top of bread |
| ½ tsp | kosher salt |
We have a KitchenAid professional mixer. The settings in this recipe are the settings we use for it.

In the mixer mixing bowl, add the water, sugar, and yeast and stir everything together with a spoon. After 5 minutes this should be foamy.

Now add the ¾ tsp salt, ¼ cup olive oil, flour, granulated garlic, and 1 tbl rosemary. Put the dough hook on the mixer, turn the mixer to number 2, and let the mixer work on the dough for 12 minutes.

You want the dough to be workable but it should still be pretty sticky.

Now grease a large bowl. Put the dough in the bowl, form a ball, and turn the ball to coat it with the oil. Cover this with plastic wrap, put it in a warm place, and let it rise for 45 minutes to an hour or until doubled in size.

Add the 1 tbl of olive oil to a 10-inch cast iron skillet and spread it around, covering the bottom and sides. Punch down the dough and press it into the bottom of the skillet making sure you cover the entire bottom of the skillet. Brush the top with 1 tbl olive oil. Then sprinkle with the remaining 1 tsp rosemary, and ½ teaspoon kosher salt.

Cover loosely with plastic wrap and let rise 30 minutes to an hour or until doubled in size. While the bread rises
Preheat the oven to 400°.

When the dough has risen, take the platic wrap off, and bake it at 400° for 20-25 minutes.

Remove the bread from the oven when the top is light golden brown all over.

Immediately remove the bread from the skillet and let it cool on a wire rack. If you leave the bread in the pan the crust will get soggy!

Drizzle the top of the bread with more olive oil if you'd like, slice into wedges or long 1" thick slices. Serve warm with butter.