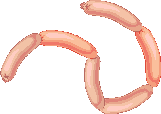 Chicken, Andouille, & Tasso, Jambalaya


| | |
| --- | --- |
| 2 lb | andouille Sausage, sliced 1/8" thick |
| 2 ½ lb (approx 6) | boneless & skinless chicken thighs cut into ½" cubes |
| 1 lb | tasso cut into ½" cubes |
| 3 | medium onions, chopped |
| 5 cups | chicken stock |
| 3 cups | parboiled (converted) rice |
| 2 tsp | granulated garlic (garlic powder) |
| 1½ tsp | dry basil |
| ½ tsp | dry thyme |
| 1 tsp | black pepper |
| 2 tsp | salt |
| 2 tbl | parsley- chopped |
This recipe feeds an army. I'm not kidding. It will feed at least 12 people. It saves well in the fridge or freezer but you may want to cut the proportions in half.
The most important part to making good jambalaya is to use the right pot. Non-stick, stainless steel, or anodized aluminum just won't do. You need a cast iron pot and a metal spatula. I use a 12 quart cast iron dutch oven.
Turn the heat to medium high and heat the dutch oven. After the dutch oven is hot, add the andouille and cook for approximately 5 minutes, stirring often. The sausage should brown making a "graton" on the bottom of the pot. Scrape the graton off as it forms as this is the secret of a good jambalaya. Add the chicken and cook, stirring often, for 10 to 15 minutes or until the chicken is thoroughly cooked but not to the point where it shreds. Keep scraping the graton off. Lower the heat to medium and add the onions and garlic. Cook until the onions are clear, continuing to scrape the graton from the pot. Add the tasso, thyme, basil, pepper, and salt. Simmer over low heat for ten minutes. Add the chicken stock, turn the heat up, and bring everything to a boil. Stir in the rice and parsley, set the heat to low, cover the pot and cook for 25 minutes. Remove the lid. If the jambalaya is a little wet continue cooking with the lid off until it dries out. Serve.