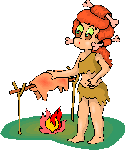 Kabobs for Susan
This stuff is delicious. But, if you knew my wife you'd know she ought to have a her name on better meal than this. I'm working on it.
Marinade:
1 tbl
Worcestershire sauce
1 tbl
soy sauce
1 tsp
paprika
1 tbl
Italian seasoning
1 tbl
garlic powder
½ tsp
Zatarains liquid crab boil
¼ cup
white wine
¼ cup
vegetable oil
Other Stuff:
1 lb
jumbo shrimp (peeled tails)
1 lb
scallops
1 lb
fresh mushrooms
1 lb
bacon
Mix everything but the last four ingredients in a large plastic bowl with a lid. Wash the shrimp, scallops, and mushrooms, put them into the bowl and turn until covered with the marinade. Cover and refrigerate two to four hours. Shake the bowl to recoat every hour or two.
Cook the bacon until it is done but not crisp. Cut the bacon into pieces about 1 inch long. Alternate shrimp, scallops, and mushrooms on the kabobs with a piece of bacon between each. Finish with a mushroom on each end (helps keep the shrimp and scallops from drying out, and bacon from catching on fire). Grill over a medium-low fire until done (if the fire is too hot, the bacon will burn like gasoline).