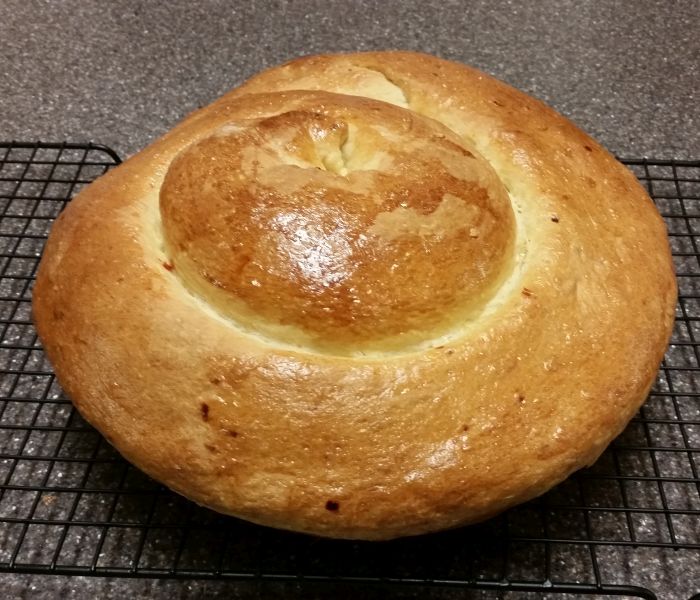 Lava Bread



This bread is so good and so pretty it is great to serve when you want to show off. It's very easy to make, it's beautiful to look, and and the melted cheese just pours out like lava when you cut it open.


| | |
| --- | --- |
| 3½ cups | AP flour |
| 2 tbl | yeast |
| 1½ tsp | red pepper flakes |
| 1½ tsp | granulated garlic |
| 1 tsp | salt |
| | |
| ½ cup | water |
| 4 tbl | melted butter |
| 1 | egg yolk |
| 2 | eggs |
| | |
| 6 oz | provolone, cheddar, Swiss, or other melty cheese cut into ½" cubes |
| 6 oz | Monterey jack cheese, cut into ½" cubes |
| | |
| 1 | egg |
| 1 tbl | water |
| | |
| 1 tbl | melted butter |
Mix the flour, sugar, yeast, red pepper, and salt together in the bowl for your mixer. Add the water, butter, yolk, and eggs to a small bowl and mix well. Put a dough hook on the mixer and start turning the flour mixture on medium. Add the water, butter, and egg mixture and let the mixer go for 8 minutes while it makes the dough. Take the dough out of the mixer, form it into a ball, put it in a greased bowl large enough for it to double in size, and cover with plastic wrap. Let the dough rise in a warm place for 1½ hours.
Take the dough ball out and, using a rolling pin, roll it into a 12" X 18" rectangle. Spread the cheese evenly around the dough leaving a 1" to 1½" border that is free of cheese. Roll the dough in to a log starting at one 18" side and rolling toward the other. Pinch the seam and ends closed. Now roll the log with your hands lengthening it to about 30". Roll the log into a spiral with the seam side in. Put the spiral in a greased glass pie plate, cover with plastic wrap, and let it rise for 1½ hours.
Take the plastic wrap off and brush the top of the spiral with the egg wash. Bake at 350° for 50 minutes. At 25 minutes rotate the bread and cover it with aluminum foil to keep it from browning too much.
Take the bread out of the oven and brush the melted butter over the top. Let the bread cool in the pie plate for 10 minutes. Take the bread out of the pie plate and let it cool for 20 minutes on a rack. Slice and serve.
One last note. Don't slice the bread until the entire 30-minute cooling period is over or the cheese will run all over the place.
Home