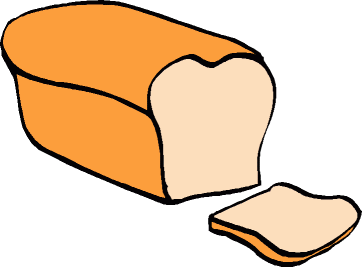 White Bread

| | |
| --- | --- |
| 2 packages | dry yeast |
| 2 cups | warm milk (whole or skim, 105° to 115°) |
| 2 cups | all purpose flour |
| 3½ cups | bread flour |
| 4 tbl | sugar |
| 2 tsp | salt |
| ½ cup | canola or olive oil |
We have a KitchenAid professional mixer. We use it a lot and love it. This recipe is a favorite of ours.

Put the flours, yeast, sugar, and salt into the mixing bowl and mix with a fork. Add the milk and oil. Using a spiral dough hook set the mixer to speed 2 and mix everything together to form the dough. Let the mixer knead the dough for 5 more minutes.

Spray a bowl with cooking spray, put the dough into the bowl, spray the outside of the dough with cooking spray, cover with plastic wrap, and put it in a warm place until it is doubled. When the dough has doubled in size punch it down and divide it into two equal pieces. Roll each piece of the dough out on a floured surface into a long approximately 10" X 18" to 20" rectangle. Roll the the pieces of dough into two logs,pinch the edges together, and place them seam side down into 2 greased bread pans. Cover the bread pans with plastic wrap or damp towels and let the dough rise again to about double its size.

Heat the oven to 325° then bake the bread for approximately 30 minutes. Remove the bread from the pan and cool on a rack. Wipe the top of the loaf with a damp paper towel to keep the bread crust soft.