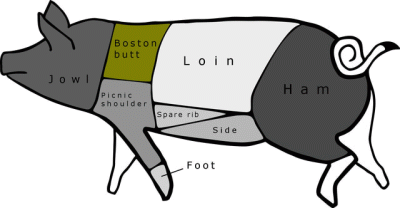 Crock Pot Pork Carnitas



Pork butts go on sale all the time and we invariably end up with one. Then we try to figure out what to do with such a big hunk of meat. Sometimes we put it on a smoker and make BBQ pulled pork for sandwiches and sometimes we grind it into sausage, but eventually you get tired of doing the same thing. So one day I stumbled on two recipes for crock pot pork carnitas and took what I thought was the best parts of the two recipes and combined them in to a single one. It was wonderful! This recipe is incredibly easy and so good it's hard to describe with words. All you do is mix some spices together, rub it all over the pork butt, put the butt in a slow cooker and leave it alone. You can start this before you go to work and you will have a delicious meal waiting for you when you get home.


| | |
| --- | --- |
| 1 | pork butt |
| 4 tbl | chili powder |
| 1 tbl | salt |
| 1 tbl | brown sugar |
| 2 tsp | ground cumin |
| 1 tsp | cayenne |
| 1 tsp | ground oregano |
| 1 tsp | onion powder |
| 1 tsp | garlic powder |
| ¼ tsp | cinnamon |

Mix all the spices together in a bowl. Using about half of the spices, cover the pork butt and rub it in. Save the rest of the spices. Put the butt in a crock pot with the fat side up. Put the lid on the crock, set it to low, and cook the butt for 10 hours. Open the lid and let the butt cool. Using your fingers or a fork, pull the meat apart separating the fat and discarding it. Sprinkle some of the remaining spices on the pulled pork and mix everything together. Add as much of the spices as you feel like.

You can serve this just like it is or skim the fat off the juices left behind in the crock pot and mix it into the meat. Either way it is delicious. The leftovers make great tacos too.