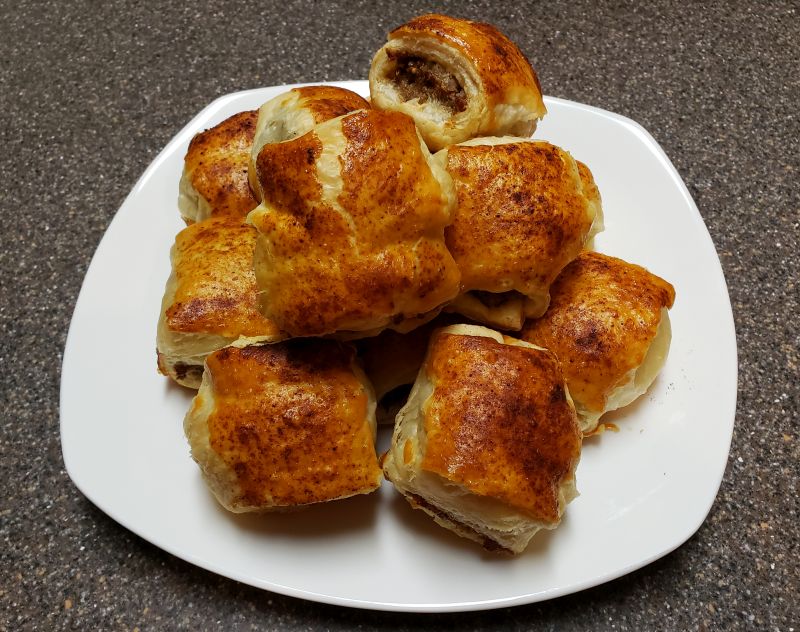 Sausage Puffs
These are very easy and good for dinner or breakfast. The instructions were written for dinner but they are great for breakfast if you substitute breakfast sausage for the Italian sausage.
| | |
| --- | --- |
| 1 Lb | Italian sausage |
| 1 package | frozen puff pastry |
| ¾ cup | bread crumbs |
| ⅓ cup | milk |
| 1 tsp | garlic, minced |
| ½ tsp | parika |
| | salt & pepper to taste |
| 1 | egg |
| 1 tbl | water |
Follow the directions on the puff pastry package so it is thawed properly and is ready to use. Preheat oven to 425°. Unfold the puff pastry onto a lightly floured surface. You should have 2 big squares. Cut each square in half perpendicular to the fold lines creating 4 long rectangles.
Combine the sausage, bread crumbs, milk, garlic, paprika, salt and pepper in a large bowl and mix well. Divide the sausage mix evenly into quarters and roll each quarter out to make a log as long as each puff pastry rectangle.
Put the sausage logs on the puff pastry and roll each pastry up over the sausage mixture. Pinch the seams together and turn the sausage rolls seam side down. Cut each roll into 4 sections. Place the sections on a baking sheet lined with parchment paper. Mix the egg wash together and brush the top of each roll. Sprinkle on a little paprika on each roll for looks. Bake at 425° for 5 minutes. Then reduce heat to 350° and bake 30-35 minutes.
If the sausage is greasy, drain the excess oil part way through baking. The pastry should be golden and puffed up and the sausage in the center should be cooked through.
Remove the rolls from pan and put them on paper towels to cool.