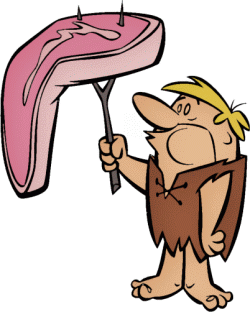 Cast Iron Steak

I'm convinced that the best steakhouse around is my back yard. I don't know of a restaurant that serves a better steak. A few minutes on the grill and I have perfectly cooked bovine goodness. But what to do when it's raining and your grill is soaking wet? This will give you a great steak without the grill. The biggest drawback is smoke. Maybe enough to set off a smoke detector, but definitely enough to make your house smell like steak for a few hours. That's not necessarily a bad thing. One last thing. While a cast iron frying pan works best, a good thick stainless steel frying pan works nearly as well. Any pan will work as long as it is non-stick and has a good thick bottom that will hold a lot of heat.
| | |
| --- | --- |
| 2 | 1" thick ribeyes or NY strips, trimmed of excess fat |
| 1 tbl | Steak seasoning (use your favorite kind as long as it's a good one) |
| 1 tbl | Worcestershire sauce |
| 1 tbl | olive oil |
| 4 tbl | butter (cut into one tbl pats) |
Pat the steaks dry and then sprinkle half of the Worcestershire sauce on the top sides. Now sprinkle half of the steak seasoning on the top sides of the steaks. Flip the steaks and repeat. Let the steaks sit for 45 minutes. While the steaks sit, turn the oven to 400°. After the steaks have rested put the frying pan over medium high heat and get it good and hot. Hot enough that a drop of water instantly dances around the pan when you drop it on it. While the frying pan is heating, drizzle the olive oil over both sides of the steaks and make sure they are evenly coated. Now put the steaks in the pan and let them sit for 4 minutes. Don't touch them! Let a good crust form on the steaks. Now flip the steaks and turn off the heat to the pan. Put a pat of butter on each steak and then put the pan in the oven. Cook for 4 minutes for rare, 5 minutes for medium rare, and 6 minutes for medium. Take the pan out, put another pat of butter on each steak, cover them loosely with aluminum foil, and let the steaks rest in the pan for 5 minutes. Serve. Lastly, if you want your steak more than medium you are on your own.