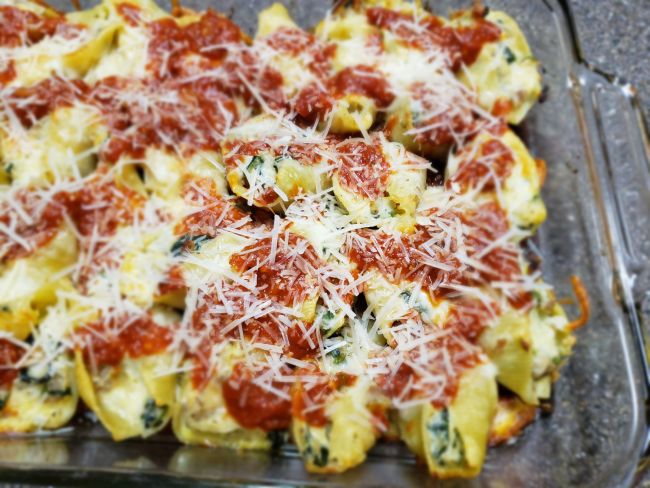 Italian Sausage Stuffed Sausage Shells
These are really good and this recipe is enough to feed about 6 people.
12 oz box
Large Pasta Shells
2 tbl
olive oil
1 lb

bulk Italian sausage
1 cup

onion, shoppedjalapeno, seed
4 cloves
garlic, minced
8 oz
fresh spinach

15 oz
ricotta cheese
1 cup
mozarella cheese, shreaded
1 cup
Parmesan cheese, shreaded
1 tbl
dried oregano
2
eggs, beaten

1½ tsp
salt
1 tsp
freshly ground black pepper
16 oz jar

marinara sauce
1 cup
mozarella cheese, shreaded
1 cup
Parmesan cheese, shreaded




Garnish

½ cup

Parmesan cheese, shreaded



Fresh chiffonade basil leaves



remaining marinara sauce




Preheat the oven to 350°.

Cook the pasta shells according to the package instructions. Let the pasta shells cool in a bowl of ice water. Take them out and lay them on a baking sheet lined with paper towels. Set aside.

Now make the filling. Heat a large sauté pan over medium-high heat with 2 tbl of oil. When the oil is hot, add the chopped onions and garlic. Cook until the onions are softened and the garlic is fragrant. Add the Italian sausage and cook until it is done. Add the spinach, and cook until it's wilted. Take the sausage mixture off the heat and allow it to cool to room temperature.

In a medium mixing bowl, mix the ricotta cheese, mozzarella cheese, Parmesan cheese, oregano, eggs, kosher salt and freshly ground black pepper together then stir in the sausage mixture.

Grease a 9"x13" baking pan. Spread two-thirds of the marinara sauce on the bottom of the baking pan. Using your fingers, fill the pasta shells with the sausage ricotta mixture. Set the filled shells in the baking pan, seam side up, on top of the marinara sauce. Top the pasta shells with the remaining 1 cup of mozzarella cheese and 1 cup of parmesan cheese.

Cover with foil and bake for 20-25 minutes. Remove the foil, turn the oven up to 425°, and bake for another 10 minutes or until the cheese begins to brown. While the cheese browns, put the rest of the marinara sauce in a small sauce pan and heat it up. When the shells come out of the oven, garnish them with the heated marinara sauce, then the torn basil leaves, and finally with the last of the parmesan cheese.