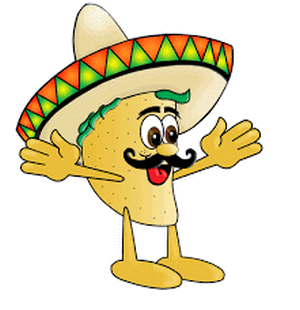 Taco Cups

These are really tasty and they look great. The egg roll wraps brown around the edges making these pretty to look at and they make a great finger food.
They are really easy to make and they're a great fast and easy "what can I make for a fast dinner" meal or a beautiful plate of hors d'oeuvres to take to a party.

These have a little bit of a kick but you can use mild tomatoes and chilies if you'd like a little less spice.
Use some store bought picante sauce, guacamole, or add a spoon full of sour cream and top with some chives to take them over the top. The most important thing to remember while making this is to drain all of the grease and moisture out of the ground beef and tomatoes or the cups or the egg roll wraps will be soggy.

This recipe makes approximately 36 taco cups.


| | |
| --- | --- |
| 1 lb | egg roll wraps (cut into quarters) |
| 1 lb | lean ground beef |
| 1 packet | taco seasoning |
| 10 oz can | Rotel diced tomatoes with chilies |
| 1½ cups | shredded Mexican blend cheese |
| | picante sauce, sour cream with chives, guacamole |
Preheat the oven to 375°. Brown the ground beef and drain every bit of grease you can from it. While you are browning the beef, open the can of tomatoes and drain all the water you can from it. When the beef is cooked and drained, stir in the taco seasoning and set it to the side to cool. While the beef cools spray a mini muffin pan with cooking spray, cut the egg roll wraps into quarters, and stuff an egg roll wrap quarter into each cup. Add the tomatoes and chilies to the beef and mix well. Spoon enough of the beef and tomato mixture to each cup to fill it about half way. Top each taco cup with about 1½ tsp of shredded cheese. Bake the taco cups for approximately 10 minutes. The 10 minute time is approximate, watch the taco cups as they cook and remove them from the oven when the egg roll wrappers brown. Take the taco cups out of the oven and let them cool Top each cup with picante sauce, sour cream and some chives, or guacamole. Put the cups on a serving plate and serve.