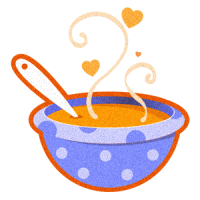 Tortilla Soup
This is one of our favorite meals at our house. It's low calorie, just a little bit spicy, and really good.

| | |
| --- | --- |
| 2 | boneless skinless chicken breasts |
| 8 | 6" corn tortillas |
| 2½ qts | chicken broth |
| 1 large | onion, quartered |
| 1tsp | granulated garlic |
| 10 sprigs | fresh cilantro |
| ½ tsp | ground oregano |
| ½ tsp | salt |
| 2 | tomatoes, cored and quartered |
| 2 | chipotles in adobo + 1 tbl of adobo sauce |
| 8 oz | shredded monterey jack or similar cheese |
Heat the oven to 400°. Stack the tortillas on top of each other and cut them into ½" strips. Drizzle a tsp or two of canola oil over them and toss well to coat. Place them on a baking sheet and bake approximately 12 to 14 minutes or until browned. Transfer the tortilla strips to a paper towel lined plate and salt to taste. Set these to the side while you make the soup.
While the tortillas bake bring the chicken broth, chicken, and 2 onion quarters to a boil. Reduce to a simmer and cook for 20 minutes. Take the chicken out and put it on a plate to cool. Strain the broth mixture through a paper towel lined colander and save. Shred the chicken when it cools.
Place the tomatoes, remaining onion quarters, chipotles, adobo sauce, garlic, oregano, and ½ tsp salt into a food processor and process until smooth. Add 1 tbl of canola oil to a large pot and turn the heat to medium to medium high. Add the tomato mixture and cook stirring constantly until the mixture darkens (approximately 10 minutes). Stir in the strained chicken broth, bring to a boil, reduce to a simmer, and cook for 10 minutes to blend the flavors. Add the chicken and simmer for 5 minutes to warm the chicken.
Ladle into bowls. Garnish with tortilla strips, cilantro, and as much cheese as you like.