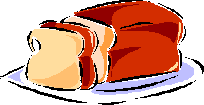 Food Processor White Bread

| | |
| --- | --- |
| 1 package | dry yeast |
| ¼ cup | warm water (105° to 115°) |
| 3¾ | all purpose flour |
| 2 tbl | sugar |
| 1 tsp | salt |
| ¼ stick | butter, cut into thin slices |
| 1 cup | cold milk |
Mix the yeast and water together and set aside for 5 minutes. Mix the four, sugar, and salt together. Put half of the flour mixture in a food processor with a bread blade. Put the butter on top of the flour. Put the rest of the flour mixture on top of the butter. Let the food processor run nonstop for 30 seconds. Scrape the flour mixture down on to the blade and run the processor for 30 more seconds. The butter should now be mixed in and the flour will be somewhat "grainy".
With the food processor running, slowly pour in the milk and the yeast mixture. Run the processor for 1 minute without stopping. Open the processor and look at the dough. Add flour or milk if the dough needs adjusting.
Spray a bowl with cooking spray (PAM). Spray the outside of the dough with cooking spray. Drop the dough into the bowl, cover with a paper towel and put it in a warm place for an hour.
The dough should now be double the original size. Knead the dough 15 or 20 times on a floured cutting board. Shape the dough into a loaf and place it in a bread pan sprayed with cooking spray. Cover it with a paper towel and let it rise for an hour again.
Bake at 325° for approximately 40 minutes. Take it out of the pan and let it cool on a wire rack.
Home